M30 6 Cylinder
5, 6, & 7 Series ≥ '93 - 6 Cal SOHC* Engines
3.0cs, Bavaria - 4 Cal SOHC* Engines
*Single Overhead Cam
Engine Series
Horsepower
Price

Core Deposit
E5 - MM 3600 Rally Engine
305 HP
$16,000
$1,500
Additional Charge for an 86 mm 3.2/3.5 Liter Crankshaft:
For early 3 Liter Engines
$750
Additional Charge for a 3.5 Liter Block
$750
Options: for the 2200 Rally Engine
MM Lightened 13.5 lbs. Stock 240 mm Flywheel & High Torque Clutch Assembly with 9 strapping bands
$1,200
Core Deposit $400
MM 12 lb Billet 240 mm Steel Flywheel & High Torque Clutch Assembly with 9 strapping bands
$1,500
Carburetor Kit, Dual MM Weber 38 DGES Carburetors
and matching manifold
$3,000
Manifold $400
E6 - MM3600 Boosted Engine
14 lbs (1 bar) 600 HP
$18,000
$1,500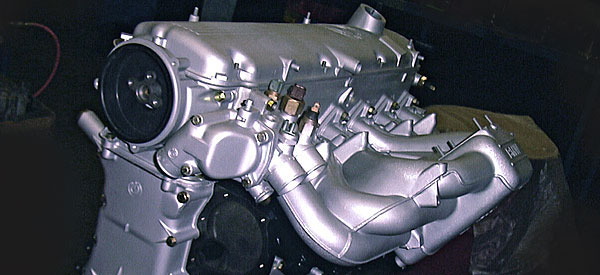 MM 3700 Rally M30 engine
We no longer build a MM 3700 Sport engine. It has been replaced with with a much improved MM 3700 Rally engine.
Major improvements:
The piston and rod weight in a MM 3700 Rally engine is over a half pound lighter than than the earlier MM 3700 Sport. The piston is 50g lighter and shorter but has reduced side loading and piston rock in the cylinder. Increased piston stability is due to the 143mm "H" beam rod that is 8mm longer yet 200g lighter than stock.
Stock bearings are replaced with tougher MM Special Moly coated rod and main bearings in our Rally engine.
Gains:
The much lighter reciprocating mass helps the engine spool up (accelerate) quicker and increases the reliability of the MM 3700 Rally. Adding our special Moly coated bearings makes the engine virtually abuse proof.
Use:
This engine is commonly use by the BMW enthusiast's who want's a good strong performance engine in their daily driver to the weekend warrior who autocross or does driver's school. This is a very reliable engine capable of going a quarter of a million miles.
Below is a description of a 285hp MM 3700 Rally M30 engine.
Displacement
3657cc = 95mm bore x 86mm stroke

Compression Ratio 10.5:1
Head
Machine ported and hand blended for a 16% flow increase over stock.

Dual profile 290° duration cam with 10.75mm lift. This cam produces a broad power band and a smooth idle.

MM's patented Surface Turbulence (ST) looks like concentric grooving. It is done to the valves and combustion chamber walls. This increase fuel economy and makes for a cleaner running engine. Also, ST reduces detonation to prevent head gasket blowing & head cracking.

MM special dual valve springs prevent valve bounce at high rpm by increasing the seat pressure and prevent valve train wear & rocker arm breakage by lowering the nose pressure.

MM Dual Chamber Sprayer Bar helps to prevent the #1 exhaust cam lobe from wearing out.

Manganese bronze valve guides and Viton valve guide seals for long life.

New inspected rocker arms.
Gains explained:
Or ported M30 head, with 16% more flow, increases cylinder filling and adds a 10% increase in torque through out the entire power band.
The MM Rally cam has larger intake lobe than the exhaust. This makes for a broad power band. Increasing the upper RPM of the engine without sacrificing low end torque and a smooth idle.
Our patented Surface Turbulence helps breakup and remix liquified fuel particles along the walls of the combustion chamber for more complete combustion. As a result our engines are more efficient. They run clean, don't sacrifice fuel economy, and not prone to detonation.
Longevity of the valve train (rocker arms, cam lobes, and valve springs) is greatly increased by our special dual valve springs and dual chamber sprayer bar.
The head is installed on the block below using a specially prepared composition head gasket.
Block
MM forged Hard Anodized 95mm piston is very light but strong at 315g (stock cast piston is 525g).

Taper wall piston pin weighs 89g vs 135g stock.

Moly rings and 3 piece oil rings, seat in quickly for low Oil consumption.

Rod is a 4340 Crome Moly light weight 525g "H" beam design, that is 143mm long (8mm longer and 200g lighter than stock).

Rod and Main bearing have a specially formulated Moly dry film coating.

New single row timing chain, oil pump chain, guide, and tensioner rail.

MM rebuilt and blueprinted oil pump with bronze bore for the pressure relief valve.
Gains explained:
By increasing the bore from 92mm (stock) to 95mm (MM) displacement is increased from 3430cc (stock) to 3657cc (MM). Offering a nice torque increase when combine with an increase in compression to 10.5:1.
Displacement increase twice as fast by boring compared to stoking. Displacement, through boring, is increase without the expense of a stoker crankshaft or the penalty of add piston speed (shorter engine life).
A MM 3700 Rally engine has an improved rod ratio of 1.66 (143mm rod / 86mm stroke = 1.66 RR) vs 1.57 RR for a stock M30/B34 with a shorter 135mm rod.
The piston and rod assembly in a MM 3700 Rally engine is just 950g vs 1435 grams for a stock BMW M30 engine. For a total weight reduction of over 6.5# (2910g).
This huge reduction in reciprocating mass helps the engine spool up (accelerate) quicker, makes the engine smoother, and adds greatly to the life of the engine.
Under equal driving conditions, even though a MM 3700 Rally engine makes 30% more horse power over the best BMW stock M30 engine, it will live about 2.5 times longer.
Tolerances:
The longevity of a high performance engine is dictated by high quality proven parts while maintaining tight tolerances without producing a failure. This take lots of years of experience to develop.
All clearances in the engine are measured down to .0001" or .01mm and recorded. The engine is fully blue printed.
The life of the MM 3700 Rally engine spans 40 years history of development. We have a stellar reputation for building very high quality high performance engines with longevity.
3800 Rally Engine
Consider the MM 3800 Rally engine for or a more aggressive driving style. Using the stock 86mm stroke crankshaft helps to hold the cost down on this engine. A big bore (96mm) short stroke (86mm) gives these engines a rev free nature and great bottom-end torque. The 8mm longer premium "H" Beam Rods improve the rod ratio (rod length divided by the stroke) for higher revving and reduced cylinder wear loading. These "H" Beam Rods weigh almost 200 grams lighter than the stock and are coupled to the crank with special coated Tri-Metal Rod Bearings. The lightweight but very strong pistons and rods reduce the reciprocating mass even more to 6 lbs. less than a stock M30 engine. Besides spooling up quicker, this lighter reciprocating mass reduces vibration at high RPMs and adds longevity. If you enjoy Driver's School Events, Autocrossing or just hard highway/street driving, then this engine really delivers.
ALL our Sport & Rally M30 Engines have the following mechanical upgrades:
Machined and hand ported head with 18% flow increase.
Surface Turbulence treatment to the Head reduces detonation, virtually eliminates head cracking, results in greater fuel economy and lower emissions.
Sport Camshaft that offers good idle and driveability.
Sport/Rally Head: improved head flow with Surface Turbulence Valves and Sport Camshaft
Single Row Timing Chain for increased life and less parasitic loss.
Rocker Arms: inspected and 30% stronger than stock.
Lightweight "Bee Hive" Valve Springs & Retainers to reduce Valve Train load.
Manganese Bronze Valve Guides for tighter valve stem – to guide clearance and extended guide life.
Moly Top rings and 3 piece Oil Rings for good oil control & long life.
Rally Engines have lighter 143mm "H" Beam Rods.
Rally Engines have special Heavy Duty Tri-Metal rod bearings.
Blue Printed Oil Pump with bronze pressure relief valve sleeve. For greater oil pump life and improved oil volume.
Dual Chamber Sprayer Bar to the #1 Exhaust Lobe from wearing out.
3600 Turbo Engine
Our 3600 Turbo Engine running on as little as 10-12 lbs. of Turbo Boost can make over 400 HP to the rear wheels and about 500 Flywheel HP. This is because the baseline (normally aspirated version) of this engine is quite high at over 250 HP. The internals; piston, wrist pin, rods and rod bearings are designed specifically for boost. When held to responsible boost levels of 10 – 12 lbs., this engine will be enjoy normal longevity. For example, the longest-lived MM engine we know of on record, is an M30 Turbo Engine that reached 485,000 + miles, using a CarTech Turbo System running 9-12 lbs. of boost. By comparison, the factory 745 engine running between 7 & 8 lbs. boost usually goes 150,000 miles.
In addition to the above modifications and those included in our Sport & Rally Engines-ALL our Forced Induction Engines offer the following upgrades:
The oil pump delivers 20% more flow.
"H" Beam rods have 4 oil squirter grooves located at the big end to cool off the piston and lubricate the piston skirt.
Special coated tri-metal rod bearings.
Special Forced Induction Forged Pistons. Piston Crown is 2mm thicker and it has a ceramic thermal barrier allowing it to take temperatures up to 1350 ° F – continuously without failure.
High Silicon Content Alloy (13%) for tighter cylinder wall clearance, greater ring and groove life, & minimize skirt scuffing.
Lower placement of the top ring groove to protect the 4mm oil ring for excellent oil control.
4mm Oil Ring for excellent oil control.