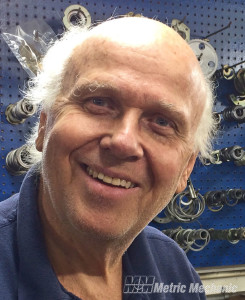 Jim Rowe
After graduating from college with degrees in Industrial Technology and Drafting, and working at shops in Kansas City, I opened Metric Mechanic in 1977. With involvement in racing, the BMW Club and my own shop to back me, I was free to research, invent, & improve the BMW drivetrain in areas where it was weak or where the enthusiast wanted more. This led to a life long adventure. Over the years, my family, friends, employees, customers and those who provide our parts and materials; have all supported us in our efforts to provide exceptional performance rebuilds for BMW owners worldwide. We've adapted to many changes and see that even more are on the horizon. With an exceptional team, we face our future motivated with new ideas, committed and still – loving what we do!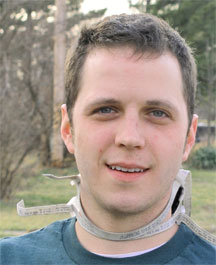 Teddy Rowe
Before learning the alphabet, I knew every European and Asian car that came through the family shop. My appreciation for BMWs began when I was 12 years old and my father taught me how to drive. Yes, it was a 2002. I've been influenced by both parents, art from my mother and technical from my father. Working for MM on and off as I grew up, I also studied marketing and art, only to quit college in 2002 and move to Houston TX for automotive technician courses at UTI. By the time I graduated in 2003, I had a clear idea of what I wanted to do and who I wanted to work with – the Metric Mechanic team.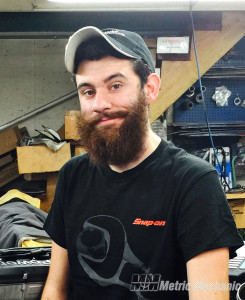 Tyler Davis
My name is Tyler Davis. I've been a gear head for as long as I can remember. My passion for BMW's started right out of vocational school. I began working with Courtney McKoy, who was working for Metric Mechanic at the time, servicing BMW's. I was trying to figure out what to do with my life; I knew I wanted to be involved in the automotive industry. I then discovered Metric Mechanic through Courtney. Towards the end of service work, I realized I wanted to take on harder challenges with drivetrains and manufacturing. So I stuck my foot in the door at Metric and tried to prove myself to Jim Rowe. He saw that I had potential and gave me a position. I imagined myself having to relocate for work in order to find a specialized shop like Metric, but through a series of fortunate events Metric Mechanic happened to be right in my back yard. There is never a day that feels like work; whether it's installing a complete drivetrain, or machining and building an engine, transmission, or differential. I've come a long way since I first started, and I'm eager to expand with the business.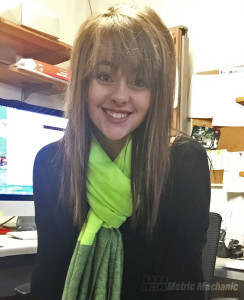 Christina Sellers
Hello BMW enthusiasts! I'm Christina Sellers, the Office Manager here at Metric Mechanic. I'm here to help the MM team keep focused on what's important – High Performance BMW's. More significantly YOUR High Performance BMW. (Or soon to be.) I began working for Metric Mechanic in August of 2015 and have had the honor of being trained by the incredible former Office Manager (of 40 years) Mrs. Mary Rowe. She has taught me just about all there is to know about keeping this business on track. I have had a wonderful time "learning the ropes" and it's been a great opportunity to join this close-knit, family business.  I hope to continue to help MM grow for many years to come.